Merging Records with Documents
Individual records, such as company details, contracts/orders or transaction details can be merged into a Communication Document.
To set up a Communication Document see Setting up a Communication Document.
In the record, click on the Hot Area, in the top left hand corner. The Word icon on the Navigation Toolbar at the top of the screen now become highlighted. When you are actually in the record, the option is not available.
Clicking on the Word button will bring up a list of the communication documents available. Use the drop down arrows to find the correct document and contact.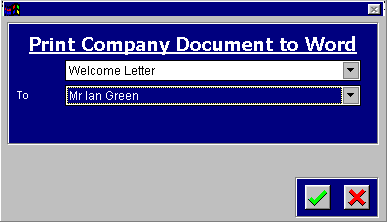 Click on the green tick button, BusiPro will merge the data from the record into the merge fields set up in the communication document.
The document will appear on screen (if this does not happen straight away, check it has not been minimised on the bottom status bar).
* Remember if the document has been set up in a specific event/publication code, you must ensure you are working in this code for the documents to be available. The product code you are currently working in is denoted at the very top of your screen.

If for example you have set up a standard letter for event A and you are currently in event B, when you click on the Word button, the letters you have set up with event A code will not be shown. To change to the required event/publication, click on the product class button

and choose the relevant product code.
Similarly, communication documents set up in the company correspondence code will not be listed if the Word button is pressed whilst in a contract/order screen and vice versa.
If the document you are expecting to see does not appear, check that you have set the document up in the correct code and you are currently working in the same product code.