Moving an Item from One Issue to Another
If an Item such as an Ad or Editorial has been assigned to an Issue, (see Assign an Item to an Issue), and that Item is no longer to be used in that issue but will be used in another, you can move the item without having to delete it and add a new one (which would create a new Ad reference number).
In the

Orders

screen,

Orders & Items > Orders

in the main menu bar, enter or

Search

for the order.

Go into the order line details by either double clicking on the order line number or clicking on the line and pressing the Edit Button to the left hand side.
Click on the Issues button.
A list of the Issues entered under this publication will be displayed in the grid. A tick in the 'Use' box denotes which issue this item has been assigned to.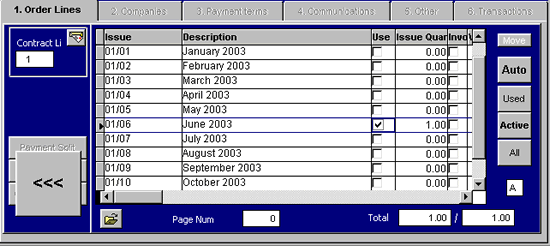 To move the Item to another issue, click the issue code on the line you want to move from.
Click the Move button in the top right hand part of the window.
Click the issue code on the line containing the issue you wish to reassign the Item to.
The tick in the Use box will move to that corresponding issue and the details set up will have been transferred over.
Save any changes by clicking on the green tick button.