Contract Report
The Contract Report can be used to show information about contracts within a specified Event code. The report can be filtered to show only contracts of a particular status and the information presented in a variety of ways.
Information which can be obtained from the Contract Report.
Contract Number
Company Code
Company Name
Status
Sub Status
Date (status)
Area
Space (revenue from space)
Shell (revenue from shell)
Package (revenue from packages)
Insurance (revenue from Insurance)
Other (any other revenue)
Total Revenue
Paid (amount money paid)
Stand number(s)

Go to Contracts & Items > Reports > Contract Report in the main menu bar.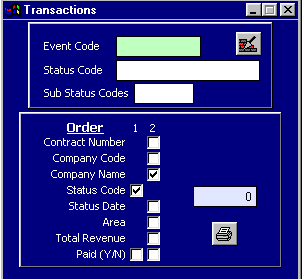 Enter or Search for the Event code you wish to run the report on.
If required, enter or search for status and sub status codes within the Event you wish to limit the report to.
The second half of the window contains 2 columns of tick boxes which allow you to specify how the information in the report is presented. The first column can denote the list to be sorted by
Status Code
This box allows you to list stati together, i.e. if you have chosen multiple stati to report on, ticking this box and then box in column 2 will first sort all the contracts so that all contracts of the same status are listed together and then by the criteria chosen in column 2.
Paid (Y/N)
Displays the amount paid on the contract. Ticking this box in column 1, will whether the contract has an amount paid and the list can be sorted by one of the criteria in column 2. The list cannot be sorted by both status code and paid.
Contract Number
Displays the list of contracts by contract number, the first contract to the last.
Company Code
Displays the list numerically by company code, i.e. the company with the lowest account number first.
Company Name
Displays the list alphabetically by company name. i.e. A - Z.
Status Date
Displays the contracts chronologically by date the status was entered.
Area
Displays the list by area of stand, from the smallest to the largest.
Total Revenue
Displays the list of contracts by revenue, from the smallest to the largest.
Once you have selected your criteria for the report, click on the build

button to build the list. The number of contracts will be shown in the box in the lower half of the window.
There are several output options by right clicking on the output button.
| | |
| --- | --- |
| | Send to Screen |
| | Send to Excel |
| | Send to Printer |