Extraction Report
This window is used to produce an Extraction Report. The extraction report lists transactions that have been processed for you to check they are correct e.g. assigned to the right nominal code etc. The report displays what transactions have gone into each nominal code and you can also check that the credit and debit columns are equal.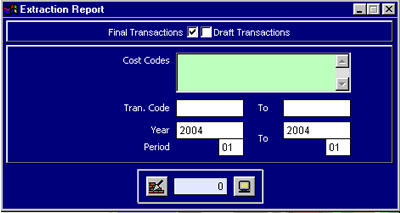 Final Transactions
Tick this box if you would like to include only final transaction in the report.
Draft Transactions
Tick this box if you would like to include only draft transactions in the report.
Cost Codes
Enter or Search for specific cost codes to run the report on. To select more than one cost code, hold down theControlkey on your keyboard whilst click on the cost codes in the search window. Leaving this field blank will run the report on all cost codes.
Tran Code From - From and To
You can specify a range of transaction code to report from and to.
Year From and To

The current year will be entered by default, enter or search for a range of years if required.
Period From and To
Enter or search one specific Accounting Period in theFromandTofields to run the report, it will be defaulted to the current period. Or enter a range of periods e.g. 01 to 06.
Click on the build button

. When the report has finished building, a number will be displayed in the field to the right.
Output Options :
There are three output options for the report by right clicking on the output button.
| | |
| --- | --- |
| | Export the report to Excel |
| | Send to Screen |
| | Send to Printer |