The BusiPro main screen consists of 3 areas, the menu bar, the toolbar and the main menu in the middle. You can add to or change the buttons in the main menu to reflect those functions of BusiPro you use most, see Customise Your Menu.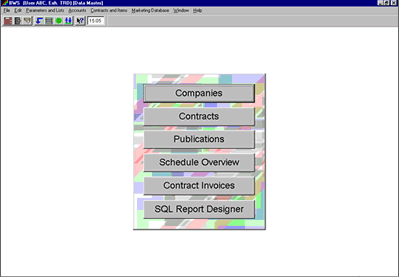 The Menu Bar

This contains links to all aspects of the system, any of which can be added to your main menu.
The Toolbars

The toolbars located below the menu offers a quick one-click access to the most commonly used options. The toolbar is made of two sections, the first being the General Toolbar which is available as soon as you log in and the second the Navigation Toolbar which does not become available until you enter into an area of BusiPro.
Another menu is available by right clicking on BusiPro fields. The Pop-Up Menu allows quick access to features related to the area you are related in, so options will be different depending on which field you are in.