Auto Allocation
This program can also be used for writing off exchange rate differences.
Go To Accounts > Sales Ledger > Auto Allocation Run in the main menu bar.
To run the program, click on the Go button. You will see the system scrolling through the transaction numbers in the field below this button.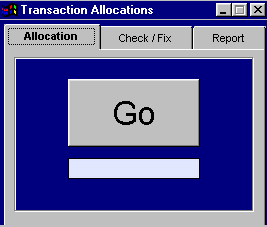 Check
Checks that the value of the transaction line is equal to the value of the header. Checks the goods, vat and total to make sure transaction is correct. A report of any incorrect transactions will be shown in the Report window.
Fix
Will try to make any incorrect transactions correct in itself. A report of what has been fixed will be shown in the Report window.
Report
The report will allow you to look at transaction codes which may have a problem - perhaps you are comparing the transactions to bank statements or invoices. Running this report enables you to see any discrepancies needing resolution - which may take the form of adding journals.