The Search Window allows you to search for a Record with a number of different options.
To access the Search Window,
Right Click the field you want to search on and select Search from the Popup Menu.

Hitting F11 on your keyboard or

Clicking the Search Button icon on the Navigation Toolbar will perform the same function.
All Search Windows will have a text box at the top of the window where you can type in the first few letters of the item you are looking for. The Grid will jump to that part of the list. You can also use the Scroll Bar on the right of the Grid to move up and down to the list.
Once you have located your record, click on it to highlight the line. Clicking the Tick Button will close the window and take you to the chosen record; the relevant details will be automatically placed into the correct position on the Calling Window. Double clicking on the item performs the same function.
If you decide not to select a record then click the Cross Button button.
Most windows will have a Options Box in the top left corner allowing you to choose the primary method you wish to use to search for your record. Once you have chosen one the records will be displayed in the Grid in that order.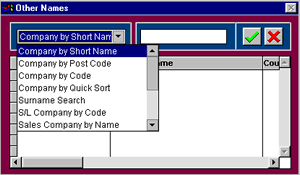 To set a search option as default, select the appropriate option and right click on the Tick button. Whenever you enter this search window, your chosen default search option will be displayed.