This is the Accounting Page, which is used to enter the following Company Accounting Information. Depending on whether the company is ticked as sales, purchase (or both) different pages will be available. When a new company record is added, the system defaults to sales ledger account. However ticking purchase ledger will unlock the purchase ledger pages.
From the Accounting tab Main page, the following information can be viewed or entered.
Ticking Sales Ledger Account box
Ticking Purchase Ledger Account box
Scrap Company Tick Box
If the company is for example no longer trading but cannot be deleted because it has invoices against it, the company record can be 'scrapped' i.e. the system will ignore this record and will not be pulled out in BusiRep reports. Tick the Scrap Company box, the record will go red with a black line through it.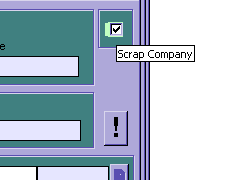 Transferring Details
There is also a Transfer Button to transfer orders, communications and transactions from one company to another for example when companies have been duplicated on the system. Clicking on this button brings up the following box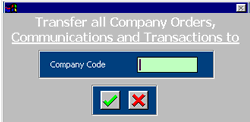 Enter the account code of the company you are transferring the orders, communications and transactions to and then click on the Tick button. The system will look at the contacts and transfer over any that are not listed.
Once the details have been transferred over, the old company can then be deleted. To do this, click on the company code so the hot area turns orange and then click on the Delete Button in the Navigation Toolbar.
If the company record you have merged has a different name to that of the main record, the old company name will still be listed in the search window for searching purposes only. It is not a duplicate on the system.