Transferring Contact Details
If a contact leaves a company it is possible to transfer all the communications and details relating to transactions and orders/contracts to another member of the same company.
Transferring Contact Details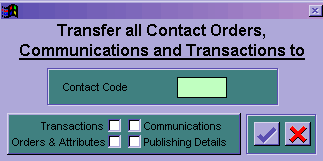 Add the Contact Code, e.g. 002 of the contact who has taken over from the contact who is leaving.
Tick the boxes of the areas of information you would like to transfer over.
Click on the Tick button.
All the information ticked will be transferred to the new contact.
The old contact can now be deleted, see Deleting a Contact.