The attributes assigned to a record can be:
Transferred from one Attribute Code to another (and also between different Attribute Types) e.g. if ten companies have been assigned the attribute code GRAPHIC, these companies can be transferred to attribute WEB.

Copied from one attribute code to another (and also between different attribute types) e.g. the ten companies that have attribute code WEB can also be copied over to have attribute code MARKETING.
If you do not have the Transfer and Copy buttons on your screen, you do not have the administration rights to do this, see your systems administrator.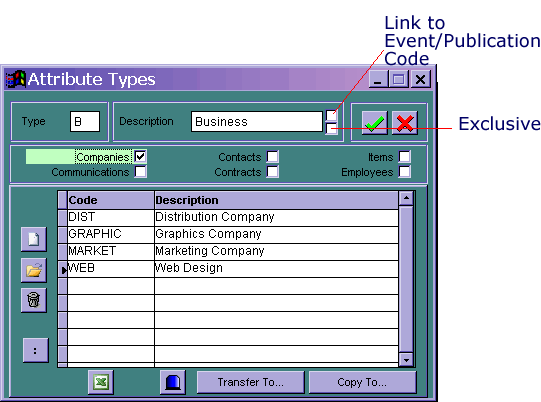 Enter or Search for the Attribute Type code.
Click once on the Attribute code which is to be transferred.
Click on the Transfer To or Copy To button. The code column will turn green.
Click once on the Attribute code you wish to transfer or copy to. A message box will pop up tell you the code you are transferring/copying to and from.
Click on Yes to accept the transfer/copy.
If you are transferring a code between Attribute types, follow the steps up to clicking on the Transfer/Copy To button, then in the Hot Area enter or search for the other Attribute type. The system will remember the attribute code you are transferring/copying. Click on the new attribute code and accept.
If you are transferring attributes that have been linked to event/publication codes, for example in a questionnaire, first clear the event/publication you are currently working on by right clicking on the product class

button or the transfer will not take place.
You can run a statistical analysis of the Attribute Codes within a Attribute Type by searching for the Attribute type and then clicking on the Excel button at the bottom of the window. This will give you a list of the quantity of each attribute code in the system.
If changes are made to the Attribute database, when the Attribute Types window is closed down the system will run an Attribute Policeman program to check the system, this may take a few minutes. This can also be done by clicking on the Policeman button

.