Emailing a Communication Document
A communication document set up in the system such as a letter or word document can be emailed to any contacts in a company record as an attachment or body text (providing they have a valid email address). For information on communication documents see Setting up a Communication Document.
Right click on the Word icon on the top Navigation Toolbar until you reach the email icon .
Left click on this button to bring up the Print Window.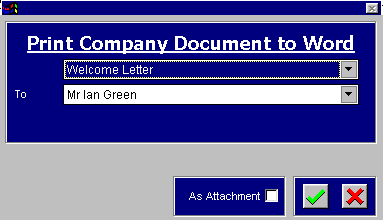 Use the drop down arrows to find the required document and contact at the company. If you cannot see the document which you know has been set up, check that you are in the right Product Class (i.e. event/publication code at the very top of the screen next to your user initials). If the document has been set up in a different product class to the one you are currently working in, the document will not be available. Change the product class by clicking on the button in the general toolbar and selecting the correct event/publication.
The document will be sent as body text, to send as an attachment, click on the As Attachment tick box.
Click on the green tick button.
In the Communication Text box, enter the subject line of the email and click on the green tick button.
The email will be sent to the recipient.
Any responses from emails sent from BusiPro can be processed by the Outlook Import Inbox if they have the correct code added to the email, for more information see Dealing with Email Responses.