Emailing a Standard Email to a Report List
Set up an email template
The first task is to set up the email design with the message you would like to send.
On the

general toolbar

at the top of the screen, click on the communication button. This will open a blank communications window.

Click on the New Button on the Navigation Toolbar.
Change the Comm. Type to EMAIL or click on the outlook button.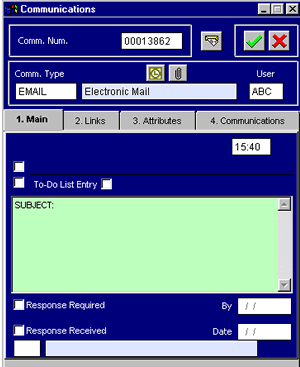 Enter the subject line text as you would like it to appear in the recipient's inbox.
Enter the content text below.
The email can be sent low or high priority by click on one of the tick boxes on the left hand side.
The emails can be linked to your To-Do list by clicking on the To-Do list Entry tick box, for more information see Adding a To-Do List Entry from a Communication.
You can also add an attachment by clicking on the Attach File button next to the Outlook button.
Save the communication by clicking on the green tick button.
Make a note of the

Comm Num

that has been given to this communication.
From the Report Screen
Once you built your list right click on the output option button until you reach the Outlook Icon.
In the blank field next to the Icon, enter or cut and paste the Communication number you set up as your template.

Click on the Outlook button, the system will tell you how many emails have been sent.

Any responses from emails sent from BusiPro can be processed by the Outlook Import Inbox if they have the correct code added to the email, for more information see Dealing with Email Responses.