Adding Page Numbers
After an issue has been published, you can go back into BusiPro and enter the page number for the ad/editorial.
This can be done in one of two ways: either to an individual item, or to all the ads/eds in an issue in one go.

To add a page number to an individual Item
Go to

Contracts

& Items > Orders

in the main menu bar.

In the hot area Search for the contract/order.
Double click on the order line number to go into the order line details.
Click on the Issues button.
Click on the issue line the ad/editorial was assigned to, it will have a tick in the 'Use' box. The issue details screen will appear.
The 'Page Num' box now becomes available at the centre of the window.
Enter the page number and click on the green tick button to save.

Adding Page Numbers for all the ads/eds in an issue
Page numbers can also be added in the 'Schedule Overview' report. This allows you to enter the page numbers for all the ads/editorials for one issue in one go.
Go to Contracts & Items > Schedule Overview in the main menu bar.
Enter or search for the publication code press return. All the issues for the publication will be listed across the top of the screen with the item codes down the left hand side.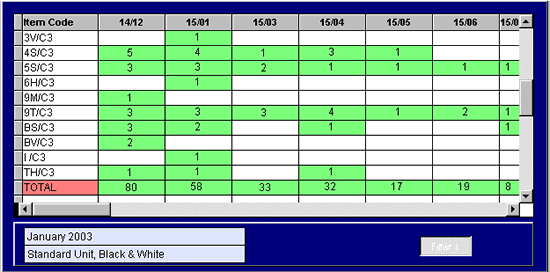 Scroll across to find the required issue, the numbers in green represent how many items of that type were in the issue. At the bottom there is a total.

Double clicking on the total number in green bring up a list of all the companies who placed an order in that issue.
There is a column for page numbers, type the page number straight into this box, going down each ad reference in turn. BusiPro will automatically update the order line details as described in the first method.