Event History Report
The Event History report can be used to show the qty, area and value of each contract status e.g. S (signed), C (cancelled) and a total for a specified event. This includes all contracts lines not just stands so will include items such as web fees, insurance etc.
The report can also provide a comparison between the current exhibition and the previous exhibition at the same point e.g. 12 weeks before the show.
For the comparison to work, the previous show event code must have been entered in the Previous Event field in the main page of the Setting up a New Exhibition window (and BusiPro was used for that event).
To run the report
Go to Contract & Items > General > Event History Report in the main menu (if you do not have the menu item, contact your systems administrator)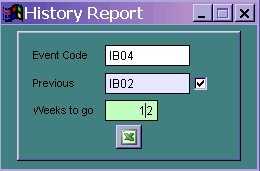 The default event code you are currently working in will be displayed in the Event Code field and the previous event code as denoted in the Event Set up. Change if necessary.
To show a comparison between the two exhibitions, tick the Use Previous tick box. To only show the current event breakdown, untick this box.
Enter the number of weeks before the show figure.
Click on the Excel button to export the report.


The Excel grid will display each contract status for the week specified. The Before, During and After figure are noted to provide more detailed information about the beginning and end of the week in question for cases where the report is being run on a weekly basis.