Account Enquiry - Details Tab
The details tab shows contact and company information.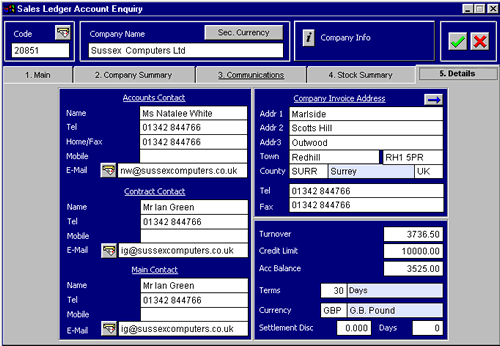 The information here is taken from the Companies Screen, the contact ticked Accounts contact and Main contact will be shown, and any contact linked to the order/contract. In the absence of a specific contact being named, these will be defaulted to the main contact. If a separate invoice address is marked on the company record, this will be shown here. To view the company record, click on the Go To Button by the invoice address.
A communication can be added against any of the contacts by clicking on the communication button by the email address, and if a valid email address has been entered, the communication window can be used to send that contact an email, for more information see Emailing from a Communication.
Account Enquiry - Main Tab
Account Enquiry - Company Summary Tab
Account Enquiry - Communications Tab
Account Enquiry