Parts 1 & 2
Part 1 and 2 contain the following fields for all types, and are the only fields for these types: Object ID, Integer, Sequential Int, Base Currency, Sec. Currency, Boolean, Date/Time, Date, Month, Year, Time, Email Address, Password, URL, Expression and Menu Heading.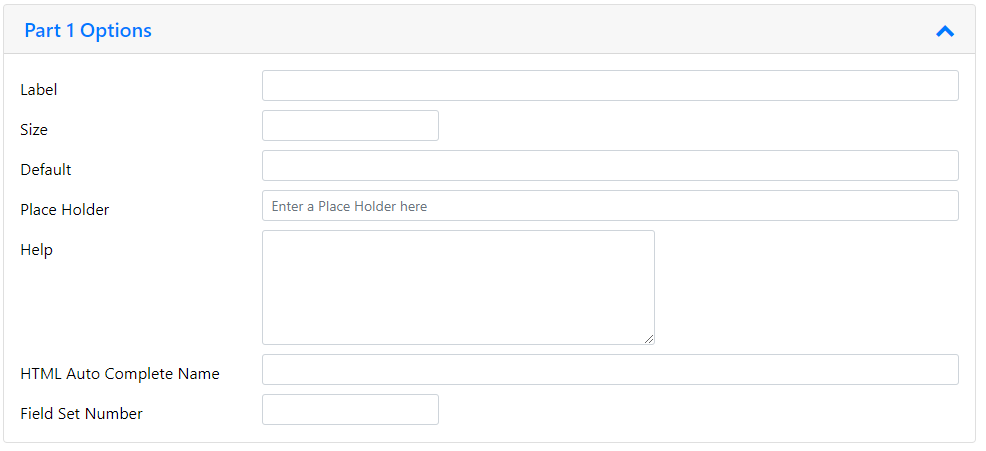 Form Field Descriptions
Label is the object identification, used when editing and displaying the final value. This can be anything you like.
Size is only used when a special size field or checkbox is required. For check-boxes this is measured in columns, default 3. Radio buttons default is 1. For a text field, if you specify the size, it's in characters (size*9+33) based on the normal font. Size defines the max width of the element.
Default is the default value for the field.
Place Holder is place holder that is visible in grey in an input box, or radio button default option.
Help is descriptive text that appears when you hover over an input field.
HTML Auto Complete Name is informs browser of appropriate auto form filling field information. Can use the word off to prevent auto-filling the field. A list of standard fields is available.
Field Set Number allows you to group fields together under a Field Set Number, you can then set a field name to title the group using the Other Options, Field Set Details.
Date Type Definitions
Current Object ID, make the Part 1 field equal to the current object ID.
Object ID is used in Part 2 so that you can hold the Object ID of another object.
Integer is the typed integer. Holds positive and negative integers using 8 bytes signed integer range. -9,223,372,036,854,775,808 to 9,223,372,036,854,775,807
Sequential Int is used where you would like a self incremental sequence of integers for this field. If you would like counters based on a parent object relationship this is possible using the Sequential Relationship ID stored on the list. The system counts up from the last highest entry in the list.
Base Currency is a monetary value in the currency of the organisation using the software.
Sec. Currency is a monetary value in an alternative currency, works with currency coded items to correctly evaluate them in the base currency.
Boolean a holder for a Boolean (TRUE / FALSE) value.
Date/Time a field to hold a Date / Time value. The field prompts for dd/mm/yyyy hh:mm:ss and if you click the calendar icon is shows a calendar browser as below.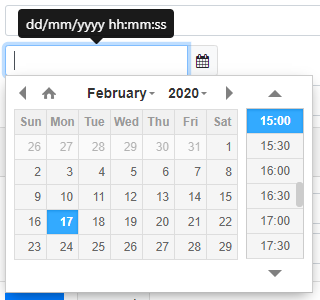 Date prompts with a similar calendar box, just without the hh:mm:ss option.
Month holds a month and year value, prompts for mm/yyyy format.
Year holds a year value, prompts for a year in yyyy format.
Time holds a time, prompts for time in the hh:mm:ss format. If you click the clock icon you will see a time browser as below.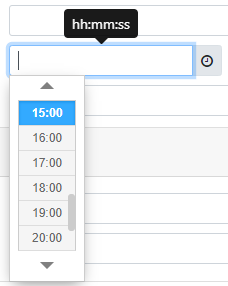 Email Address field holds an email address. The input should match a valid email address. The @ icon is for information only, to indicate the email field.
Password holds a password. The password is hidden by bullets. It also has a level of security basic on the password entered shown as a percentage and colour from red to green. Here's an example.

URL holds a web URL. The value should be in a web URL format. The link icon is just an indication of the field requirement.
Expression is not generally used to hold data, but is used to hold development details / code. It has an icon to brows to the object containing the code. Does not always generate form content, but may be used to modify form actions.
Menu Heading used to hold a menu item name, please see the guide on Menu Heading for more details.
For some types there are some additional fields, as shown below:
Double:

The Double data type is a floating point datatype. It will hold decimal numbers to 8 decimal places. The Double type has a Decimal Places setting to adjust how many decimal places to show. So for money you would usually use 2 decimal places. e.g. 12.25
Character:

The Character data type, hold string data. The size limit for a string is Part 1&2 is 500 characters. Part 3 size limit is unlimited. Data Entry Restriction limits the input format to the following options. If left with '...' selected then no restrictions apply.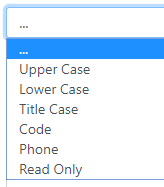 Image URL, Audio URL, Video URL, File URL, Document URL, JS Document URL, CSS Document URL and Google Doc ID:

Document Upload Folder is a destination for files being uploaded.
The Type Definitions
Image URL holds a URL pointing to an image. (JPG/PNG/BMP/TIFF/GIF/ICO/JPEG/SVG/TIF)
Audio URL holds a URL pointing to an audio file. (MP3/MP4/MPEG/OGV/WEBM)
Video URL holds a URL pointing to a video file (Youtube/Vimeo links)
File URL holds a URL to a file of any type. (EOT/OTF/TTF/TXT/HTML/HTM/WOFF/WOFF2/ZIP/KML/XML/JSON)
Document URL holds a URL pointing to a document. (DOC/DOCX/PPT/PPTX/XLS/XLSX/PDF)
JS Document URL holds a URL pointing to a JavaScript (.JS) file.
CSS Document URL holds a URL pointing to a Cascading Style Sheet (.CSS) file.
Google Doc ID holds the ID of a google. document.
Sequential Character:

Sequential Character is used in a similar way to Sequential Integers, allowing for a sequence to count up, including alphanumerics.
Sequence Expression sometimes you don't want the number to be just sequential, you might was it to follow some other sequence, you can point this to an object containing the next sequential number. See also Sequential Relationship field.